Makeup Boxes・Pouches
Fit Perfectly, Stackable and Organize
Polypropylene makeboxes are convenient storage unit that can freely arrange and stack based on your preferance. It can also be used together with Nylon Makeup Boxes or other storage unit. The series has wide ranges of uses that is waiting for you to discover through out your daily life.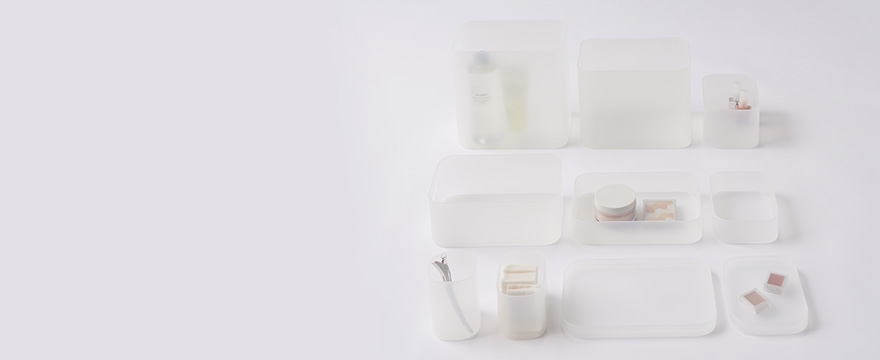 Organizing Makeup Accessories
Dividing and organizing various makeup accessories into individual makeup boxes based on the sizes. Neatly stack them on top of each other when not in used, and sprate them across the table when putting on makeup. The makeup mirror can also be used as a lid to cover the boxes.
PP Makeup Box 150x220mm(5.9"x8.7")
H2cm(0.8")
$2.5
H4.5cm(1.6")
$3.5
H8.6cm(3.4")
$5
H16.9cm(6.7")
$6
H2cm(0.8")
$13.25
H10.3cm(4.1")
$7
---
PP Makeup Box・Half 150x110mm(5.9"x4.3")
H4.5cm(1.8")
$4.5
H8.6cm(3.4")
$5
H4.5cm(1.8")
$3.3
H8.6cm(3.4c")
$5
H2cm(0.8")
$2.5
H10.3cm(4.1")
$6
---
PP Makeup Cases
H7.7cm(3")
$2.5
H9.1cm(3.6")
$2.5
7.5x22x4.5cm
(3"x8.7"x1.8")
$2.5
7.1x7.1x10.3cm
(2.8"x2.8"x4.1")
$2.5
---
Nylon Make Boxes
16.5x19.5x12.5cm
(6.5"x7.7"x4.9")
$20
16.5x23.5x16.5cm
(6.5"x9.3"x6.5")
$24